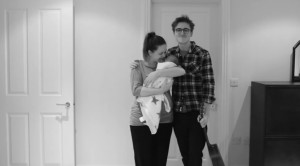 Tom Fletcher of Mcfly and his wife Giovanna Falcone have welcomed a new baby boy into the world. The couple decided to do things a bit differently when it came time to chronicle the pregnancy. They took a picture every day for 9 months and this video is the result.
Set to the tune of Tom's original song "Something New", the video ends with the happy couple cradling baby Buzz Michelangelo Fletcher.
The video quickly went viral, probably because they're one of the cutest couples around. I always knew Tom would end up being the coolest band member, even 8 years ago. Is anyone else really digging his glasses lately? I wish there were more eyeglasses for less than $20 because mine are so expensive and I'm not feeling the frames anymore.