by Josh Batchelder
This week's episode was awesome and is one of the last times we will see McKinley this season. Check out 10 things I loved from Glee season 5 episode 10, "Trio."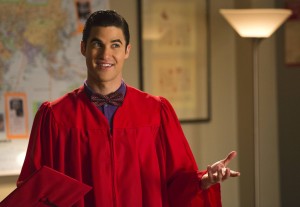 10. WEMMA!!
After 5 long seasons of drama, Will and Emma are finally going to have a baby, though Sue laments the baby is sure to have a butt-chin. Will this be how they write out the happy couple? Let's hope they keep the "successful emissions" to a minimum from now on, at least until they're in the comfort of their own home.
9. BIESTE
Okay, so she only popped up briefly for a few words of advice. But if it's one thing I dearly miss on this show it's Bieste and her advice. Bring back the Bieste!
8. ONE THREE HILL
Seriously, though, how awesome is that band name?
7. STARCHILD AND DANI
Okay, so I know Dani only popped up briefly in this week's Glee, but she made her few scenes count. Starchild is also becoming a real presence on this show and I'll be sad to see him leave. Writers, bring on Lambert full-time, no one would complain!
6. NEW YORK!!
The New York side of things is really getting juicy with all the bitchiness and glam of Broadway rearing its head. I'm looking forward to the latter half of the season in which it will be 100% NYC.
5. BARRACUDA
Starchild and Rachel totally killed it with their epic performance of the classic tune. Adam's belting fit wonderfully with Rachel's glitzy pipes.
4. JUMPIN' JUMPIN'
I don't know about you but I'm a sucker for some nostalgia, and this was classic Glee season 2 all the way. I adore this song too, so maybe I'm a little biased. But wowzers did it sound awesome.
3. BECKY'S SCREAM!
Becky's reaction to finding Wemma canoodling in the faculty restroom was probably the single funniest moment of the episode. I'm throwing this out there: when Glee ends, Becky should really get her own spin-off show. You know you want it too.
2. BLAMTINA
Yes, Blaine is almost always the highlight of many great episodes of Glee, but tonight we really saw a side of his character we haven't seen much before. The relationship between Sam, Blaine, and Tina was epic and better not fizzle out like so many other friendships this show seems to forget. The senior lock-in was fantabulous. Whatever happened to Mercedes & Kurt?
1. THE PROMO FOR THE NEXT 2 EPISODES.
Technically, this is kind of cheating but… Seriously, though. If you haven't seen the promo yet, check it out for yourself. We have Skylar Astin, Mercedes with a fake dog, and tons of returning characters. What's not to love?