Dominic Adams is about to heat up Sunday nights as a series regular on the new season of Lifetime's Devious Maids. Dominic will be joining season 2 as Tony, a mysterious new character with plenty of special skills. He joins an ensemble cast that already includes Ana Ortiz, Drew Van Acker, Dania Ramírez, Roselyn Sánchez, Edy Ganem, Judy Reyes, Susan Lucci and Grant Show.
We had the pleasure of chatting with Dominic about his upcoming role on Devious Maids and what viewers can expect from him when the series returns to Lifetime.
Read on for our interview with Dominic Adams:
Can you tell us a little about your character on Devious Maids?
Dominic Adams: My character is Tony. I am an ex-special forces guy who has a somewhat shadowy past. It's not quite clear what he's done or where he's come from. I protect one of the families, one of the couples in the show, because they've had some sort of security issue and they're running a bit scared. They need people to keep them safe and that is I.
What attracted you to the role of Tony? Are you like your character at all?
Dominic: Oh, you know. I like to think I'm a very manly man. Tony is supposed to be a protector and a tough guy. At least in my own mind, I like to think that I have some of those instincts or qualities. I'm very much in touch with my sensitive side but I like to be quite masculine and manly. I think that's the main similarity between myself and the character.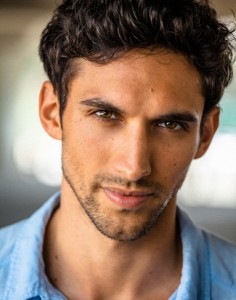 Yeah, your character is described as very athletic and you also have experience with martial arts. Would you say that's helped you with the role?
Dominic: It's not like The Transporter or a Jason Statham movie where I'm kicking people in the face. There's been a couple of times where I've had to show that I've got some moves…in and out of the bedroom. But yeah, there's been a couple times where I've had to throw some punches and so forth. Having a background knowing that helps but it's very different pretending to punch someone than it is having to do it with another human being for real.
Has anyone influenced you with your acting? Is there anyone you'd love to work with someday?
I'm a big student of the craft. Montgomery Clift, Cary Grant, Brando, Pacino, de Niro and Phil Hoffman are all huge influences. I would love to work with auteurs like Paul Thomas Anderson, Steve McQueen. Any actor who's ferocious, daring and committed.
Devious Maids has been doing really well. How does it feel to be apart of such a successful show? Were you familiar with it at all before you got the role?
Dominic: Yeah, I feel like it's a really opportune time to join the show. The way it performed and grew into itself throughout the first season and finally ending the season as a really surprisingly strong, very popular, widely shown show, for me it was a really great time to join that. I can't wait for everybody to get to see how the characters in the second season get even more devious. I feel very lucky to be part of a show that has proven to be a pretty big hit. I hope the viewers and the fans love what we've been doing for season 2.
I think they will. The characters are so interesting and I think that's one of the reasons people are watching for. Such a great cast. What was it like working with them?
Dominic: Everyone's great. There's always a bit of trepidation when you start new projects. Especially when the project has such a large cast. I think the first season had 14 season regulars. That's a hell of a lot. I now think we've got 12 series regulars so it's a lot of people. You go to your first table read and you wonder how they're going to be, if they're in little groups and cliques. But they were all very lovely and welcoming. The girls are great. They've all been really lovely. Everybody has.
I don't know how much I can say about my storyline in terms of where I fall but I've been working with some characters who aren't maids and they've been great too. I've been lucky enough to work with some fabulous actors who are welcoming and it's a happy situation. Did you watch the first season?
I did watch it because of the cast. I was familiar with the names joining and that's what drew me in to check it out.
Dominic: It's fun. It's a fun Sunday night viewing session. It's a little crazy and it's a little astounding. It's bigger than life. We all at times need that kind of release. Where we can watch and laugh at the ridiculousness of situations that people can find themselves in for our viewing pleasure. I think it's an easy and enjoyable and fun ride.
Can you tease what viewers can expect from you in the new season?
Dominic: I can say that you can expect me to be causing a little bit of trouble. With a man that has the background and past that I do, you can make of that what you will, but it sounds pretty interesting. I'm gonna come in and shake a few things up. I may be going to help show some elements of characters that are already there that the audience hasn't seen before. I think you're going to find that there are going to be sides of very popular characters that are on the show that they haven't seen as a result of my actions and the way I'm going to make them feel.
I'm pretty much coming in to shake things up. I hope that viewers think that it's exciting and funny, the way that I'm going to approach what I do in the show. Maybe a bit naughty as well.
We'd like to thank Dominic Adams for taking the time to chat and answer some questions for us! We really appreciate it. He was so sweet.
Be sure to keep up to date with everything Dominic is doing by following him on Twitter here: @IamDominicAdams
Devious Maids airs Sundays at 10/9c on Lifetime.
Don't forget to tune in to the season 2 premiere when it airs on April 20th, 2014.