by Ashley Weitzel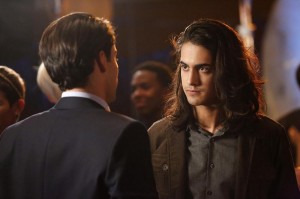 Twisted is getting crazier each episode. Always leaves me with tons of questions. Are you all with me on that? Looks like Danny will be getting more unwanted attention on next week's episode!
Be sure to watch next week's preview for "Danny Indemnity" here and be sure to check back. We will update with videos as they are posted.
Burbank, CA (February 13, 2014) – A secret gets buried in a mysterious cover-up in a new episode of ABC Family's original drama "Twisted," airing Tuesday, March 4th (9:00 – 10:00 PM ET/PT).

In the episode titled "Danny Indemnity," a massive cover-up leads Danny and Jo to wonder if someone is out to help or hurt them, and Kyle can't quell his suspicions that things aren't at all what they seem. Danny comes into a sizable amount of money, which puts the spotlight on him again in town and complicates his relationship with Karen. Jo confronts Tess about the tension between her parents and Tess drops another huge revelation on Kyle. The episode was written by Andy Reaser and directed by Chad Lowe.