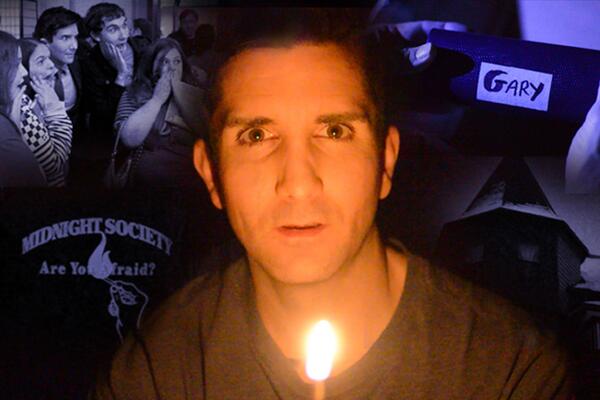 Let's file this as one of the coolest things you will see this week. Remember Are You Afraid of the Dark? AKA that Nickelodeon show that terrified us kids growing up in the 90s? The show that made us scared of clowns that had no nose and rickety boats floating in the shadows? The show that made damn sure I stayed away from pools, libraries, hospitals, comic books, graveyards, doll houses, and just about any other object or place? It also made me incredibly wary of a guy with a questionable hairdo named Sardo (accent on the 'do!).
Most importantly of all, do you remember Gary? Played by Ross Hull, he was the bespectacled leader of the Midnight Society who was, dare I say it, responsible for all those creepy meetings in the woods. Well, he's a hot weather man in Canada now! No, no, that's not the news.
He's filming a documentary based on his experiences with Are You Afraid of the Dark! Following an appearance at the Slimed! Nickelodeon event in New York City (I was totally there and it was awesome!), Ross has released the official trailer giving fans a glimpse at what's to come. I'm so excited!
Submitted for the approval..of the Midnight Societ…watch the Are You Afraid of the Dark? trailer below!
I may or may not appear in this.
If you haven't already, check out our interview with Mathew Klickstein, author of Slimed! An Oral History of Nickelodeon's Golden Age from last year!
Are you excited to see more from Ross? What episode of Are You Afraid of the Dark terrified you the most as a kid?
Post your thoughts below!