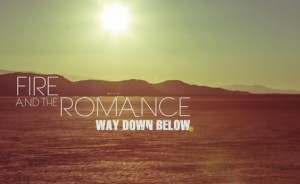 We've got a new music feature for you guys to check out. Fire and the Romance is the new band fronted by New York based Dion Roy. Dion has certainly kept himself busy the past year. He's been touring independently across Europe, Canada, and extensively around the United States. He's been fortunate enough to have his music featured on various networks that include MTV, Lifetime, A&E, and Oxygen, just to name a few. Talk about a great platform. We were especially thrilled to learn Dion has worked with David Hodges, who we absolutely love, and who is responsible for a large amount of the music that we enjoy today. That's great company to keep.
Dion is branching out from his solo work to introduce his new band Fire and The Romance. The group has recently unveiled their music video for their latest release "Way Down Below". The band is described as alternative pop but the thing I like most about them is that they don't remind me of anyone else. Their sound is intriguing but they feel original. Not like some rehashed rip-off we've all heard 1000 times before.
The song features a chorus that jumps out at you with Dion's emotional voice and even better lyrics rounding out the song. It's unique and they are able to convey that relatable vibe they were going for. Dion is quoted as saying "Its been an incredible experience developing this project with my band; the process was both fun and intriguing. The Adaptations EP was an experiment in sound that really turned into something special for all of us – and I love what we found."
We love it too.
Fans can expect "The Adaptations EP" to be out in the Spring of 2014. They have begun touring to promote their music and you can stay up to date with them through their multiple social media accounts.
Official Website: http://www.FireandtheRomance.com
Twitter: http://twitter.com/FireandtheMusic
Facebook: http://facebook.com/FireandtheRomance
You can check out the video for "Way Down Below" here and may also stream the single over at Soundcloud.
You can, of course, also support the band by downloading the song on iTunes.