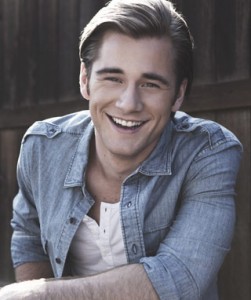 Perhaps one of the biggest breakout stars from ABC Family's Ravenswood is Luke Benward. Not only does Luke star as Dillon in the hit ABC Family series, but thanks to several successful roles on The Disney Channel, his star is on the rise. Luke will appear alongside Jason Isaacs, David Arquette, Lauren Holly, and Tom Skerritt in a starring role in Field of Lost Shoes.
Luke recently appeared in the Disney Channel Original Movie Cloud 9, as well as in a recurring role on Good Luck Charlie. Cloud 9 premiered to 5 million viewers, easily making it the number 1 show on cable for the night.
We got the chance to speak with Luke about his dark and shocking role on Ravenswood, his role on Cloud 9, and the twists and turns that viewers can expect in the season finale of the spooky ABC Family series.
Read on for our interview with Luke Benward:
Pop City Life: What interested you in the role of Dillon? Are you a fan of the supernatural elements?  
Luke Benward: I think the storyline of "Ravenswood" overall is what interested me. It is the kind of show that can have many twists and turns. It's also quite edgy for ABC Family, which is fun to be a part of. I originally tested for the character of 'Luke' with Brett Dier and obviously didn't get it, but when they told me about 'Dillon' and the impending twist for him I was STOKED. I had always wanted to play the bad guy.
There have been many twists with Dillon since he was introduced. What would you say is motivating his secretive actions?  
Luke: Unfortunately, I can't tell you everything, but I will say that Dillon is not a psychopath. He is fighting for his life just like all the RWs. I think that he just got mixed in with the wrong side.
What can you tease about Dillon working with the mysterious little girl in the red coat? With the season finale approaching, will viewers understand his connection to the pact?  
Luke: They will. Even in the last episode, it kind of started to dive into how Dillon is in the position he's in and how he gave up Olivia as a sacrifice for himself, so it will definitely start to unfold more about his past. Get ready cause the last episode is a crazy one.
As the rest of the group becomes suspicious of Dillon's actions, will this put him in danger in Ravenswood?  
Luke: Oooooh, yeah… haha! That's all I'm going to say. Gotta watch!
What's it like filming with the rest of the cast? Do you have any fun memories from the set?  
Luke: It's a blast! I have actually gotten to know Brett and Britne the best, I'd say, and will definitely be hanging once they come back to the states (because they're from Canada)! We all have a blast together and everyone is very professional.
What can you tease about Dillon in the season finale?  
Luke: It is a BIG episode for Dillon and a HUGE twist for the storyline. Honestly, people will freak.
How has the fan support been since starting 'Ravenswood'? 
Luke: AMAZING! I think it was absolutely brilliant to do a spinoff of a successful show like Pretty Little Liars, not only because of how massive the show is, but because of how loyal their fan base is. I feel very thankful to have those fans behind us and supporting the show.
You'll also be appearing in the Disney Channel original movie 'Cloud 9'. Can you tell us a little about your character? 
Luke: My character's name is Will Cloud and he is a complex guy. He was once the next up and coming snowboarder until he had a career ending injury that put him out of the snowboarding world. So when we find him at the start of the story, he is working at his mom's dog spa… and that's about it. He's kind of down in the dumps and not living his dreams, but through meeting Kayla Morgan after she is punished and forced to work with Will, they start to fall for each other and end up teaming up to compete in the big snowboarding competition.
Did you have a background in snowboarding before you got the role or was some training necessary?  
Luke: Yes, a little bit! My family and I had gone to Colorado for a few years prior to Cloud 9 for a cancer research benefit and I learned there.
Cloud 9 reminds me of the great Disney Channel sports movies that were aired when I was growing up. I loved when athletes would get involved. The movie was co-produced by Ashley Tisdale and Shaun White. Did you get to work with them at all? 
Luke: YES! I agree—this movie reminds me so much of the old Disney movies that I grew up watching and that is one of the reasons I'm so proud of it. I think it'll be a classic for sure. Shaun signed off as a producer after filming was done to focus on the Winter Olympics, but I did get to work with Ashley a bit and she is a sweetie! I absolutely loved her and her producing partner, Jessica, who is a rock star.
Do you enjoy filming on location for your roles in 'Ravenswood' and 'Cloud 9'? What did you enjoy about each place? 
Luke: Of course! One interesting thing about filming on location is that it kind of forces the cast to become very close very quickly because they're all you really have. With both casts, we all became very tight knit, but they were two very different places. Cloud 9 was shot in Utah and "Ravenswood" in New Orleans and each city was gorgeous in their own ways.
Congrats on your success with both 'Cloud 9' and 'Ravenswood'! What else are you working on? What can your fans look forward to from you next? 
Luke: Thanks! I have a film coming out in a limited theatre release called Field of Lost Shoes, which I am excited for people to see. Then, I'm back to auditioning for now and working on developing some projects with writers I know. So, I'm going to just disappear. Keep an eye out for me!
We'd like to thank Luke Benward for taking the time to answer some questions for us. We really appreciate it!
You can keep up to date with everything Luke is doing and follow him on Twitter here. Be sure to tune in to Cloud 9 when it airs on the Disney Channel and don't forget to check out Luke on the hit series Ravenswood.
Ravenswood airs Tuesdays on ABC Family.