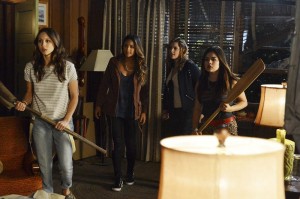 Pretty Little Liars picks up the pace on an all new episode. Now that Hanna told the girls about Alison's diary..are they sure they want to know?
Read on for our recap of "Love ShAck, Baby".
The girls are a little pissed that Hanna didn't share the diary with them and demand that they be allowed to read it. Alison has written her stories about the girls in code and now they're taking turns reading it and figuring out the clues. What else will they find in there? Bonus points for the show bringing up the fact that Jason still exists and CeCe is in Maryland somewhere, possibly being paid to have killed Wilden.
Emily may be heartbroken, but she's pretty stupid. She walks into school with the diary in plain sight and Ezra sees. He does not look happy. Emily has a dream/vision of Alison apologizing and saying how much she misses her. The next day, she gets a note saying "I want to come home. Meet me at our spot." Stupidly, Emily goes. And without a weapon! When no one shows up, Emily leaves her name bracelet on the kissing rock and leaves. But not before the camera catches EF & AD painted in a heart. I know we're supposed to think EF is Emily Fields but..could it be Ezra Fitz?
Ezra is working overtime this week on being creepy. We catch him listening to an audio file of Alison: "You still don't know who's threatening me? I need a way to not be Alison Dilaurentis anymore." Did she fake her own death? Why is he listening to that? Was she talking to her mother? Is Mrs. Dilaurentis in on it? She's certainly coming off like she knows something. Spencer catches her and her dad together and overhears "Does Jason know?" Mrs. D plays it off that it's just about her divorce but Spencer thinks her father is cheating. Don't test Spencer! She will not put up with it. Spencer moves in with Toby. Get it. Somewhere in between, we learn that Toby's mom fell and it was an accident. It was covered up to protect the other patient that was there. But who was it?
From the glimpses I see of the diary, I think I see the titles "My Mad Twin" and "Hot For Teacher" but don't quote me on that just yet. What is certain is that Hanna does not want Aria reading the diary. The optimistic part in me really wants that to be because she knows Ezra is A. But alas. It is not. It's just because there's a story in there that Hanna hooked up with Mike when she was chubs. Big deal!
After finding a clue in one of Alison's poems, the girls head out on a road trip to a deserted bed & breakfast. It's not long before a storm starts and a road is closed and their car breaks down. Conveniently, right next to Ezra's cabin. A has the power to kill Emily's car and close the roads! This is crazy.
While all of this is happening, Ezra is being a creeper in Hanna's room, going through her things, and looking for the diary. When it isn't there, he makes his way to his cabin. Or a hooded figure I'm assuming is Ezra. Whoever it is, they get the journal. And the girls have already decoded most of it. They're making it too easy for A.
"Whoever finds her, gets to keep her."
Also spotted in Ezra's cabin: Emily bracelet, and a painting of the Halloween train.