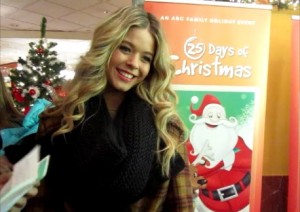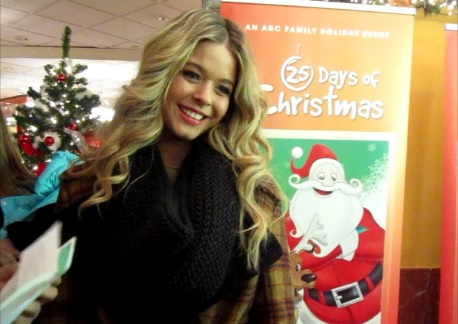 She's alive! We're super excited to say that we had the opportunity to chat with Sasha Pieterse on the red carpet for ABC Family's 2013 25 Days of Christmas Winter Wonderland event in New York City.
Sasha is best known for her work as Alison Dilaurentis on ABC Family's hit drama series Pretty Little Liars.
Sasha stopped to chat with us about the new episodes of Pretty Little Liars premiering in January. She reveals what it's like to have more time on screen after the major reveal last year and what else is ahead for Alison. She also speaks on releasing more new music for her fans and what else they can look forward to when Pretty Little Liars returns.
Pretty Little Liars returns with season 4b and "Who's In the Box?" on Tuesday, January 7th at 8/7c on ABC Family.
Check out our interview with Sasha Pieterse below! Spoilers.
Watch the video: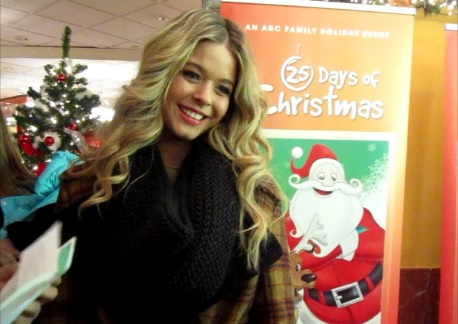 Full Interview transcript:
Pop City Life: Hey! You're alive!
Sasha Pieterse: I'm alive!
I'm so excited!
Sasha: Me too!
I think you're going to have a lot more to do this season now that you're not in the ground. Are you excited for fans to see that?
Sasha: Absolutely. I'm so excited for everyone to see me just because this second half of the season is just crazy. It's something that we've never really done before. You see such a different side of Alison and the dynamic totally changes on the show. Not just with me but with other characters in general. There's a lot that happens to us and more than a few reveals. I think you're gonna love it.
I was talking to Keegan, trying to get him to tell me who is in the box. You guys know right?
Sasha: In all honesty, we don't really. We have a few ideas ourselves but it's all theories for us.
When did you find out that Alison was alive?
Sasha: I found out before you. Basically, I had an idea, the beginning of the fourth season. I speculated, but I wasn't sure if there was gonna be a twin or not. You'll have to wait and see.
Are you excited to be releasing your new single? Is that something you're going to keep pursuing?
I am so excited. For sure. It's been so much fun because we don't have a lot of time off. It's been fun to release singles and kind of dive into that. There's quite a bit going on for me that you'll see next year.
We'd like to thank Sasha Pieterse for taking the time to stop for us. We really appreciate it.
You can follow Sasha on Twitter here: https://twitter.com/SashaaPieterse
Additional reporting by Stephanie Jaar from Poptimal.com.
The search for answers may lie buried deep within the dream world in the winter premieres of "Pretty Little Liars" and "Ravenswood," airing on Tuesday, January 7, starting at 8:00 PM ET/PT.

Armed with the knowledge that Alison is alive, Aria, Emily, Hanna and Spencer have more questions now than ever before in an all-new episode of "Pretty Little Liars," entitled "Who's In The Box?," airing Tuesday, January 7 (8:00 – 9:00 PM ET/PT). Trying to put the pieces together Hanna comes up with the idea that if they find out who is really buried in Ali's grave it may lead to much needed answers. But as the girls search, Emily has trouble dealing with how she feels about Alison being alive.

Meanwhile, Caleb returns to Rosewood, and Ezra has clandestine meetings with Mona and Aria.