Cameron Mathison has a very busy holiday season ahead of him! The talented actor, who has appeared on All My Children and Dancing With The Stars, will be taking his talent to ABC Family. Cameron will be starring alongside Jennie Garth this December in the new ABC Family original movie "Holidaze". The film will be part of the network's annual 25 Days of Christmas lineup on December 8th.
Cameron will be playing the role of Carter McClure, the childhood sweetheart of Jennie's character, Melody. We recently got the chance to speak with Cameron on a conference call about his time working on the film and his favorite holiday traditions.
Check out our interview with Cameron Mathison:
What kind of process did you have to go through to get this role?
Cameron Mathison: I've got a great relationship with ABC, ABC Family, Disney and it was kind of that once they got their female lead locked in with Jennie Garth, they extended an offer to me because they felt I was a good fit.  Jennie and I know each other a little bit and the way we act together. It was just sort of like "Get your lead female in place and then let's go looking for the guy that would work."  It was a nice phone call.  It was a nice offer to get.
What was your reaction when you found out that you had the role?
Cameron: You know I was thrilled on a few different levels.  I was thrilled because I really like the script.  I thought the script was very sweet and I enjoyed the different elements.  I loved my character Carter McClure.
I really appreciated the decisions that this guy made in his life to stay in a small town.  He's very grounded with good values — he didn't want to follow the big city and the corporate world.  He wanted to live a nice, simple grounded life in a small town and stick to those roots, and I really appreciate that in him because I didn't do that.
I went to New York and L.A. chasing the dream, which I'm very grateful that I did. But at the same time, I'm at a phase in my life where I'm probably headed more in that direction. I'm always trying to simplify and find more balance in my life. I loved the script.  I loved the character.
I'm a big Jennie Garth fan.  I think she's very funny, very good, so sweet, and it was nice to get to know her while working together on this movie.  I was thrilled on several levels.
Were you able to show any of your co-stars your dance experience after being on Dancing with the Stars?
Cameron: Jennie and I were on Dancing with the Stars in the same season! And she did better than me by one place — she used to bring it up in a quite sweet and funny way. She came fourth.  I came fifth.  She beat me by one spot, so if anybody's showing anybody moves, I don't have the unwritten authority to do that.  She would lay into me.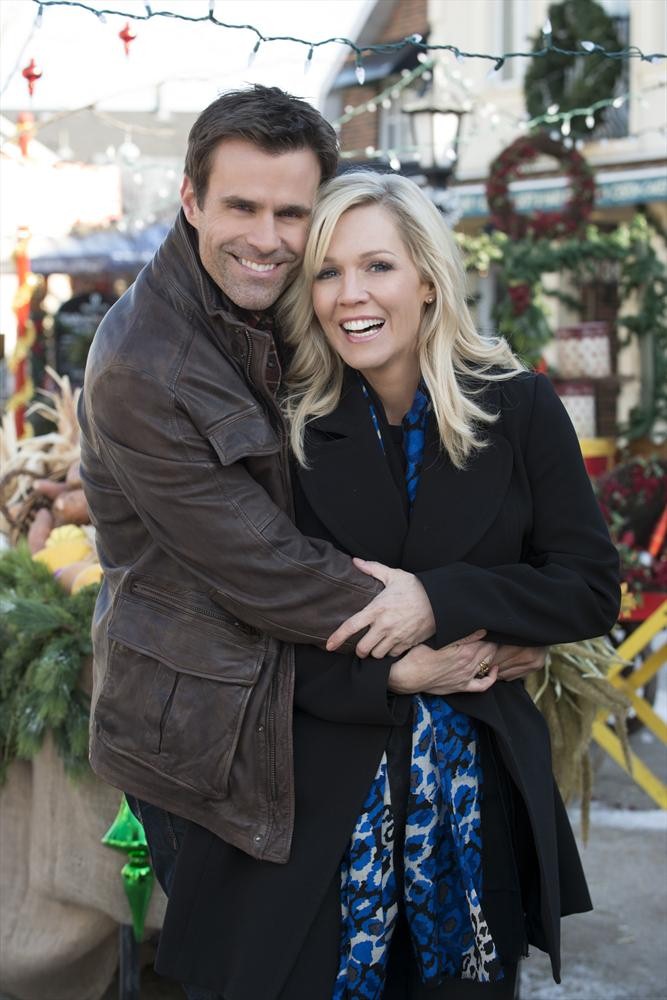 What was it like working on set during Holidaze? Are there a particular funny stories from behind the scenes?
Cameron: There's one scene in the movie where I have to stand there without clothes on – but obviously I wasn't standing there naked. It was on the third day of filming together with Jennie. So I'm standing there in my underwear for a long time which was awkward!  There was another scene when my character and Jennie Garth's character are being romantic and kissing – in between takes Jennie would check her emails on her phone and it all just looked so funny. So I came to the conclusion that I must not be that mesmerizing!
Was it challenging to have your on-screen feelings with Jennie Garth go back and forth so much?
Cameron: You know, it was in a sense.  We had to keep on remembering "Alright, so wait a minute, what's happened?  Where are we now?  So we're in love with each other now, this is good". We always had to go back.
It was almost like two different characters, and the director was very, very helpful with me, especially, because Jennie more or less made a natural progression in her change.  Whereas, mine was a black and white change as soon as she went into her dream state/alternate reality state. I was a totally different guy and that was fun. It was a good challenge and, again, like I said, our director was great with making sure that I stayed on top of that.
What is your favorite holiday movie?
Cameron: Well, I'm just going to go back to a classic, It's a Wonderful Life and A Christmas Story are some favorites for me.  The animated original version of The Grinch That Stole Christmas is a classic for me. But my modern favorite movies with my family -probably Elf.  My kids love Elf.  They just think it's so funny.
What's your favorite Thanksgiving tradition?
Cameron: It's funny, because we're a tradition overload kind of family, but most of them are in and around Christmas.  I think our Thanksgiving tradition is the traditional Thanksgiving meal.  It's turkey, mashed potatoes, stuffing, but the little twist is that we always buy our Christmas tree the weekend that immediately follows Thanksgiving — so that we get to enjoy our Christmas tree for as long as possible without infringing on Thanksgiving.
We'd like to thank Cameron for taking the time to answer some questions for those of us on the call. We really appreciate it. He was incredibly kind and generous with his time!
Be sure to tune in to the ABC Family original movie "Holidaze" when it premieres Sunday, December 8th, at 8p.m. ET. Cameron will also appear in "The Christmas Ornament" airing throughout the holiday season on the Hallmark Channel.
You can follow Cameron on Twitter @CameronMathison.