We've got a fun interview to post for you guys today! We're thrilled to announce that we recently got the chance to interview and chat with Cassie Scerbo and Jonathan Lipnicki. The two play brother and sister in the upcoming SyFy movie Beast of the Bering Sea. Cassie recently appeared in the viral SyFy hit film Sharknado and you will all of course recognize Jonathan from films like Jerry Maguire.
This is especially cool for us to get to chat with Cassie, who we have been fans of since her role on ABC Family's Make It Or Break It.
Read on for our interview with Cassie Scerbo and Jonathan Lipnicki:
Cassie and Jonathan play a sister and brother team prospecting for gold, who accidentally disturb a colony of blood-sucking amphibious predators (sea vampires) in an underwater cave in Beast of the Bering Sea.
PCL: Hi guys. Thank you for answering some questions today!
Cassie Scerbo: Hi Noelle!
Jonathan Lipnicki: Hi, no problem.
PCL: Congrats on the People's Choice Award nomination.
Cassie: Why, thank you.
PCL: Well, we've been watching you since, you know, your Make It or Break It days. And obviously with that role there was some training involved and I was wondering if you two had to do anything special to prepare for the role.
Jonathan: You know, they kind of just threw us in there. And, you know, we just kind of embraced it. Me and Cassie are both – all right, pretty athletic people. Like, you know, when we weren't filming we actually went to the gym together. And I mean we're pretty gung ho. So I think we just kind of embraced it and just went with it.
Cassie: Jonathan, what about when they had you go into, like, that river with – like they actually had you – I was terrified for Jonathan. It was awesome. I was like this amazing. This is so cool for him to be experience. He got to, like, actually – what was that gear you had on? It was like scuba gear.
And he had to, like, go in the water. You know, the obviously cleared it first and made sure it was all good.
Jonathan: Yes. They had gator divers because there's gators where I went swimming.
Cassie: I totally Instagramed it. I totally Instagramed the gator. I'm like yes, this is where we're filming. Welcome to New Orleans. But for me, yes. There's not like necessary – there was no necessarily training – necessary training. We just kind went for it. We kind of just jumped in there.
We're both very athletic. Jonathan and I both do, like, different forms of fighting. Don't you do MMA Jonathan?
Jonathan: I do Brazilian jujitsu mostly.
Cassie: Yes. And I box a lot and stuff. So we're just kind of – I don't know. We just kind of have that athletic background and it was easy for us to take it on and it was really fun. We're like, the more the merrier. We were freezing out there. We were like what else can we do that's just freaking crazy. Lots of running. And wetness, and coldness.
PCL: How has the fan support been leading up to the premiere? Are you guys kind of hoping for the same viral success as Sharknado?
Cassie: Of course. I mean I hope that I get the same viral success as Sharknado on everything I do that's, like, from here on out. But it's been really great. People have been really excited. Especially now that I have, like, these wonderful sci-fi fans.
They've been so supportive and they're just so excited to see, you know, me do – and take on another sci-fi role — which is really cool. And so – just appreciative that I never thought I'd have, like, those kind of fans.
So it's been really exciting for me and just, you know, the outpour of love on the social media – you know, Twitter and Instagram. And this week I'm going to start posting some pictures, you know, get people more amped and excited for the premiere. So we'll see what happens. Hope for the best.
Jonathan: Yes. I mean I agree. You know, especially working with Cassie after she did Sharknado and how big of a success that was. I'm excited because, you know, sci-fi fans are awesome. And this is completely different than what my fans have seen me do.
So I, you know, they've been pretty pumped and I've found a lot of love for that. So that's been really nice.
Also revealed on the conference call:
So you can start by kind of telling us what the creatures are? Because I've never heard of a sea vampire.
Jonathan: Yes. I had never heard about it before I read the script. I don't know. It would – I guess it would be really just an amphibious creature that comes out at night.
Cassie: I personally feel like they almost look like bats.
Can you both talk about kind of how you got the roles?
Jonathan: Okay. Well, I got sent this script and it was, you know, they said here's something. Would you think – would you like to do this? And I read it and I was like, you know, this is a really interesting – it just seems like a ton of fun. I've never done anything like that.
And I, you know, of course I was interested to see who else, you know, they were going to cast. And they end up going with Cassie and I was a fan of hers, so, you know, I took the role and it was an interesting role. So we went and shot it and it was a blast.
Cassie: For me I was actually in the hospital room because my niece was just born and I was sent this script and they're like, hey listen, you have like basically 24 hours to tell us if you want to do this or not.-
You know, quickly read the script. Here's who's involved. They told me Jonathan. Obviously I was a fan of Jonathan as well. And I read the script. And for me, I've lately really been embracing this, like, tomboy side and I've been joking and calling it my little, like, like I called Sharknado my Lara Croft moment. But, you know, I've always done projects that were, you know, geared towards mostly younger females, you know, Teen Spirit, Bring It On…Make It or Break It, the things that I'm mainly known for. And I'm really enjoying this, like, new sci-fi fan base. I found out this morning that Sharknado was nominated for People's Choice.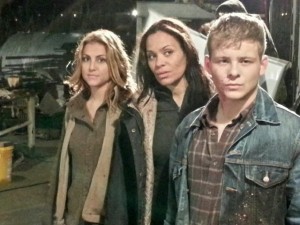 We'd like to thank Cassie and Jonathan for taking the time to answer some questions for us. We really appreciate it!
Be sure to tune in to Beast of the Bering Sea on November 9th, only on SyFy.
You can follow Cassie on Twitter @CassieScerbo as well as Jonathan @JLIPNICKI