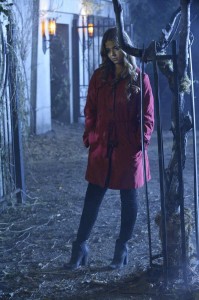 So..did the annual Halloween episode of Pretty Little Liars deliver? Well, sort of. In the last 5 minutes. But isn't that always the case?
Unfortunately, the episode seemed to focus more on introducing Ravenswood. I felt that it should have lost the title "Grave New World" and just been called "Meet Miranda." The other half of the episode that wasn't spent on Miranda was spent on the girls wandering aimlessly down hallways, only to get surprised by something and the scene to cut back to Miranda. All you need to know about Miranda is that she has bonded with Caleb over being a Foster kid and she steals people's chips.
"Grave New World" Recap:
The episode begins with the girls walking up to the party in the graveyard. Totally normal and in old-timey outfits they just so happened to be able to afford. Ezra is still around, creepin', but we'll get back to him later.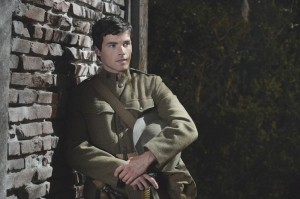 The girls are asking too many questions and they are unwelcome. Venturing away from the party, the girls wind up trapped in a weird secret cellar that leads to a weird, creepy house with endless hallways and endless opportunities for A to trap and terrorize them.
Hanna ends up separated from the group. Like, she legit disappears and ends up in another hallway completely. No explanation is given. She then ends up locked in a phone booth and some creepy lights approach her. I feel like I'm watching some UFO special on SyFy. What the hell? I don't know what's happening.
Spencer actually ends up confronting A. He's got his mask on but I'm assuming it's Ezra because Spencer takes him out pretty quickly. He manages to escape, of course, and the girls rescue her.
Mrs. Grunwald is still around and she "sees" that "one of them has been touched by the person Alison fears the most." Might that person be Ezra? He conveniently shows up to give the girls a ride home and appears yet again when the girls follow Red Coat.
Major Reveal
Alison is alive!
And now we finally know. She tells the girls she wants to come home but it's not safe. WHY? Damn you Ezra and your awful timing.
What did you think of "Grave New World"? Is Ezra really evil? What is Alison afraid of? If Alison doesn't have a twin..does Ezra?
Watch the preview for the Winter return of Pretty Little Liars: "Who's In the Box?"