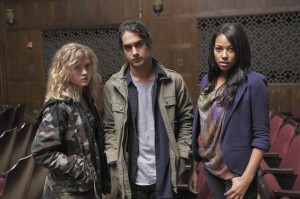 Big news ABC Family fans. The network has announced the return dates for some of our favorite shows. Come January, fan favorites and hit TV series Pretty Little Liars, Twisted, The Fosters, and Switched at Birth will all finally be returning with new episodes. Anyone else going through withdrawals?
Along with a handful of marathon events celebrating these new episodes, fans and viewers can look forward to exciting new guest stars and mysteries when all four series return in 2014.
Check out the schedule:
ABC FAMILY ANNOUNCES PREMIERE DATES FOR ITS HIT RETURNING SERIES,

INCLUDING THE ONE-HOUR SCRIPTED DRAMAS "PRETTY LITTLE LIARS," "TWISTED,"

"SWITCHED AT BIRTH," AND "THE FOSTERS"

ALL PREMIERING IN JANUARY 2014

 

SERIES SCHEDULED TO PREMIERE THE SECOND WEEK OF JANUARY WITH

TWO NIGHTS OF ORIGINAL PROGRAMMING

 

Burbank, CA (October 21, 2013) – ABC Family will kick off the New Year with all new episodes of

returning original hit series and fan favorites "Pretty Little Liars," "Twisted," "Switched at Birth," and

"The Fosters," all of which are set to premiere the second week of January 2014, with two nights of

original programming.

The hit ABC Family original series "Pretty Little Liars" returns on Tuesday, January 7 at 8:00 – 9:00 PM

ET/PT. As the Liars go looking for answers about Alison and try to make sense of their lives for the past

year, a darker side of Ezra emerges. "Pretty Little Liars" won six Teen Choice Awards in 2013, including

Choice TV Show, Choice Summer TV Show, Choice TV Actress Drama – Lucy Hale, Choice TV Actor

Drama – Ian Harding, Choice Summer TV Actress – Troian Bellisario, Choice Summer TV Actor –

Keegan Allen and Choice TV Villain – Janel Parrish. According to SocialGuide, "Pretty Little Liars"

summer finale became the #1 "most social" TV series episode in history, breaking records with over 1.9

million tweets. ABC Family will air a special "Pretty Little Liars" marathon on Tuesday, January 7, from

12:00PM – 8:00PM ET/PT, leading up to the premiere. The special Halloween episode premieres

tomorrow night, Tuesday, October 22, at 8:00PM ET/PT, on ABC Family.

"Twisted" will return with all-new episodes on Tuesday, January 7, 9:00PM – 10:00PM ET/PT. With

Danny now on the run, the town of Green Grove is even more convinced that he killed Regina,

unaware the real killer is someone they never suspected. Jo continues to grapple with how much

Danny and Lacey had been keeping from her, but is soon swept into the truth about what really

happened to Danny's Aunt Tara. Meanwhile, Tess, being the only one who knows Danny's long

thought dead father is still alive, has summoned Vikram back to town, but even she is not aware of the

depth of secrets the Desai family holds. ABC Family will air a special "Twisted" marathon, on

Wednesday, January 1, from 11:00AM – 6:00PM ET/PT.

The third season of ABC Family's Peabody Award-winning drama series, "Switched at Birth," begins

Monday, January 13, 8:00PM – 9:00PM ET/PT. Senior year means big changes for Bay and Daphne, as

the Carlton School for the Deaf receives an influx of hearing students who are not happy to be there.

Daphne begins working at a free clinic as part of her probation from the Senator Coto blackmail

scandal, and Bay takes an art class at a local college. Toby tries to unite a divided Carlton by coaching

girls' field hockey, and the parents face the specter of the impending empty nest in unexpected ways. RJ

Mitte ("Breaking Bad"), Max Adler ("Glee"), Sandra Bernhard ("Roseanne"), and Alec Mapa ("Ugly

Betty") will guest star in the premiere episode and recur throughout the season. ABC Family will air a

special "Switched at Birth" marathon on Monday, January 13, from 12:00PM – 8:00PM ET/PT, leading

up to the premiere.

Winner of 2013's Teen Choice Award for Choice TV Breakout Show, "The Fosters" will return with all-new

episodes on Monday, January 13, 9:00PM – 10:00PM ET/PT, picking up from the summer cliffhanger. The

repercussions of Callie's decision to run away impact every member of the Foster family, including

newlyweds Stef and Lena, who had offered to adopt the troubled teen. Will Jude be able to accept the

love of his family without his sister in the picture? And how will Brandon deal with the news that Callie

has run away? Meanwhile, Jesus and Mariana prepare for the reality of Lexi leaving. Mike and Stef

continue to deal with the fallout of the shooting, while Lena must come to terms with Stef returning to

the force, post-shooting. How will Stef and Lena navigate all the chaos and change as a married couple?

The winter season will also include Rosie O'Donnell in a recurring role as Rita Hendricks, a tough yet

Compassionate woman who works in the foster care system. ABC Family recently announced a second

Season pick-up for the critically-acclaimed series. ABC Family will air a special "The Fosters" marathon on

Tuesday, December 31, from 11:00AM – 6:00PM ET/PT.