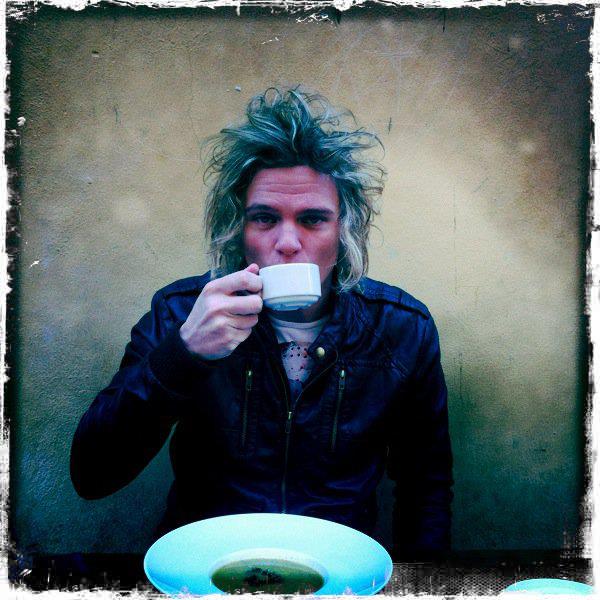 London-based Singer/Songwriter Johnny Lucas – continuing to ride the wave of critical acclaim following the release of his debut album 'Attention' last year – hopes to build upon that success with his latest single release 'Lilo.'
Following up our review of his latest single 'Lilo,'  we at PopCityLife corresponded with Johnny Lucas via e-mail, below is what followed:
1. For those that may be unfamiliar with your work, who is Johnny Lucas in a nutshell?
I'm a singer/songwriter born and bred up north in Warrington but now I'm based in London. I write catchy, feel good, Indie-Pop designed to put a smile on your face and get you clapping and singing. I'm also good at cooking:)
2. Watching your live performances, there is a good amount of crowd interaction, was that something you have always done, or something that developed?
I remember my 1st ever gig which was at a youth club in front of all my school mates. There was very little crowd interaction with that because I was like a rabbit in the headlights just trying to play the songs right. The crowd participation has only come from doing loads of shows to lots of different crowds. So now when I'm playing my shows I use a lot of it because it really draws the room in so that they can feel part of what I'm doing.
3. Essentially a one-man band on stage, what's that like, and how did that come about?
This question kind of ties into the last one because a lot of the reason why I do a lot of crowd participation is because I'm on my own on stage and it feels like the audience are part of the band when I get them involved!
The one man band thing was actually a recent thing where I realized that the band I was in was not really gelling, however I still had a massive urge to be performing the songs I'd written. A lot of my songs have a full band sound and rely on a big arrangement so to get around this as a solo performer, I use a loop sampler which allows me to play in a musical phrase and then it plays it back immediately. This then loops around and I can play other phrases allowing me to build the song as I'm going. I've been performing the songs like this for about a year now and it's getting a great response because it's a unique way of performing.
4. You are getting on a lot of radars these days, what has that been like?
It's been fantastic! My dream has always been to get my songs out there so that people can recognize them and download them on their iPods/iPhones. Tom Robinson from BBC radio 6 has recently played my summer single, Lilo along with a host of other radio stations. I'm also getting approached by managers and A&R departments of major record labels which is great! In the past I've been the one chasing the record labels and managers so it's great to see a few of them chasing me for a change! So I'm over the moon with the things people have been saying and I intend to keep up the momentum.
5. There is a quirky element to much of your music, what do you attribute that to?
I guess throughout my life I've been a bit of an entertainer and a lot of the time entertainment is just something that goes against the norm. I was always the class clown at school and I've never had a problem with standing out, being different or making a joke at my own expense. Also I'm inspired by a lot of British artists such as Queen, Kaiser Chiefs, The Feeling, and Blur (to mention a few). All of these artists are quite quirky and have a strong tongue in cheek element about them and that's really resonated with me and consequently been a big part of my music. I also lead a pretty strange lifestyle in that I often travel to Middle Eastern countries to entertain the armed forces. I consider myself really lucky to be able to do these gigs and I often get inspired when I'm out there to write more quirky material because I'm in such unusual surroundings.
6. What is the songwriting process like for you?
A lot of my songs come into my head when I'm doing something completely different ie. going for a walk to get some milk or when I'm driving. It's usually one catchy phrase with a melodic idea that I record into my phone then I put music to it at the next available opportunity. Other times I'll just be noodling on my guitar in the corner of the room and come across a particular chord sequence that I like. Then I'll put melody and lyrics on top of that afterwards.
7. With the release of 'Lilo,' a lot more people are discovering your music, what has the fan reception been like?
The fans love Lilo! I just watched back a recent performance that I played at the Troubadour in Earls Court and it gives me goose bumps because everyone was singing the song louder than me! I think it's an unpretentious song that people can relate too and there's also a deeper meaning behind it about not worrying and letting go of your problems which people really like. I really wanted the song to just put people in a good mood and it looks like it's working so far so I couldn't be happier.
8. What's up next for Johnny Lucas?
Next up is the release of the Lilo EP which will have 4/5 songs on including Lilo. I'm going to be releasing this before Christmas around November time. There's another song which is going down extremely well live called, "Dance On Clouds" so that will definitely be on the EP.