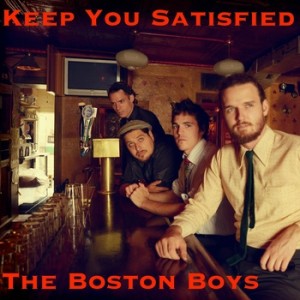 We've got a great group to showcase for you guys today: The Boston Boys. While the name may sound simple, their music is anything but. A folk rock quartet with a hint of bluegrass, The Boston Boys are gearing up to release their new EP "Keep You Satisfied" in October. The group began after meeting at the Berklee School of Music in Boston. Not a bad place to start. Even better is where they're going. Three years later, the group was selected as one of the seven bands to perform for the campaign to re-elect President Obama. Not a bad thing at all to have on the resume.
Gearing up for a tour in both the U.S. and Europe this Fall, it seems big things are ahead for The Boston Boys.
If you like Mumford and Sons, I think you'll like these guys. They're cute and packed full of talent. They feature a high energy sound that is infectious and especially noticeable in the title track "Satisfied." They blend a sound that is unique and insanely catchy. If it sounds a bit Southern, it's probably the clever blend of instruments that include a fiddle and a mandolin.
While it may be obvious, Satisfied is my favorite off the new EP. The energy is what gets me hooked. I feel like a song such as this would get a huge crowd pumped and dancing at a music festival somewhere. It's just the perfect song to enjoy in a crowd full of music lovers.
The group have released a teaser video for the EP on YouTube. You can view that here and get a glimpse at what I'm talking about:

The next tracks on the EP are Amelia and Endless Creation. Both are slower songs and lack the energy the previous song was chocked full of. But slow songs are slow songs for a reason. What they lack in energy, they make up for in musicality. The strings on Amelia, specifically in the beginning, got my attention right away.
Of the last two tracks, Honeycomb is the one I would deem more forgettable. Not because it's bad, but because it doesn't stand out as much against the last song, Take Me Under. Simplistic, clean, clear, and crisp, Take Me Under is a great way to end a very, very good album.
If you're in the NYC area, you're in luck. The Boston Boys will be playing a show at DROM on August 29th. For more information and to purchase tickets, check out the website here at DROMNYC.
To listen to The Boston Boys' new EP, check out their bandcamp page and let us know what you think!
Listen here: http://thebostonboys.bandcamp.com/