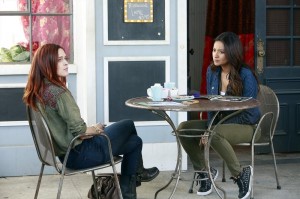 What the heck is Hanna doing? Hanna goes to desperate measures to protect her mother and, judging by these sneak peeks, desperate is right. It appears that Hanna is going to ask Mona for help crafting a believable self defense story against Wilden. Will she tell the police she hot him herself??
Pretty Little Liars airs Tuesdays on ABC Family.
Check out these sneak peeks of next week's episode "The Guilty Girl's Handbook."
Rumer Willis guest stars.
Video: