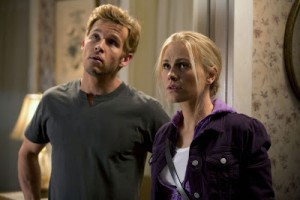 All season long, fans of True Blood have asked themselves one question: Should we be worried? Well, the definitive answer is now YES. It's been reported all year that a major character would be killed off in the hit HBO drama's sixth season. Speculation had grown that fan favorite Eric would be biting the dust but I'm not so sure.
Michael McMillian recently revealed that the major death will change the tone of the show forever.
Here's what we know:
Spoilers:
"I obviously can't say who it is, but I was definitely surprised when I found out," Michael admitted, adding that the shocking death "changes the tone of the show" entirely.

Ever since showrunner Brian Buckner revealed that "one of the principal characters will not make it all the way through the season," fans have speculated which vampire will meet his (or her) true death. That is, if it's a vampire at all.
Perhaps one of the biggest clues we have comes from the press release for the following episode, which seems to reveal who survives the episode.
Eric (Alexander Skarsgård) makes a last-ditch effort to save an ailing Nora (Lucy Griffiths). A tragedy close to home forces Sam (Sam Trammell) to ignore Alcide's (Joe Manganiello) warning and return to Bon Temps. Jessica (Deborah Ann Woll) shows her gratitude to James (Luke Grimes), a fellow incarcerated vamp, while an emboldened Sarah (Anna Camp) exacts a measure of revenge on Jason (Ryan Kwanten).
Based on this information, we can rule out Eric. If the tragedy is bringing home Sam, we worry that it could be Lafayette. Especially because in the last episode, he was possessed and trying to kill Sookie.
But what if..he succeeds? They wouldn't do that…would they?
Post your guesses below!