We are thrilled to announce that we recently got the chance to chat with Vanessa Marano. You may recognize Vanessa from her roles as April on Gilmore Girls, Francesca on The Comeback, as well as roles in Scoundrels and The Young and The Restless.
Most recently, Vanessa stars in the hit ABC Family drama series Switched at Birth as Bay Kennish. We're huge fans of the show and couldn't wait to chat with her about the new season.
We talk about the new season of Switched at Birth, the upcoming What-If episode, her relationships, who she would love to work with someday and what hilarious moment on set had Katie LeClerc ecstatic.
Check out out interview with Vanessa Marano here:

PopCityLife: Could you tell us more about the upcoming "What-If" episode and how it affects the families?
Vanessa Marano: The "What-If" episode is probably my favorite episode this season.  I think it's going to be a very satisfying episode for fans and it's a whole "what if the families found out that the girls were switched at age 3 rather than at age 16?"
"What if Regina had told the Kennishes what she had found out about the girls being switched?"  And so I think it's going to be very satisfying for fans because they get to see that, it's in this whole push-and-pull of "did Regina do the right thing?", and they get to see whether or not she did.  And a lot of it has to do with John's justification of what Regina did, and he's still so angry about it and how everything would have turned out for each character.
So it's really fun, because you get to play a character that you've been playing for so long but you also have completely different circumstances than what your character had grown up with. And Switched has always been about nature versus nurture, so this is what if the nurture wasn't what it was because everything changed when the girls were three.
PopCityLife: Will the change in family dynamic continue this season or will she be able to repair her relationships within her family?
Vanessa: Well, she repairs the relationship with Daphne, which is nice.  I like that those two can't stay mad at each other as much as they used to.  They used to really be able to stay very mad at each other.  They've also evolved more into sisters.
But this is a really big season for Toby.  He's usually a character that's in the background that you lean on for support, but it's a very big season for him.  He's talking about getting married, and whether or not that's the right decision, and so it's a lot about growing up and figuring out if you're doing something for love, if that's the right decision or not.
PopCityLife: Bay seems happy with Ty for now. Will that continue and will her and Emmett be able to be just friends?
Vanessa: Again, we will see. It's funny, part of the "What-If" episode is a what-if for Emmett and Bay, so we get to see circumstances changed, what they would have been.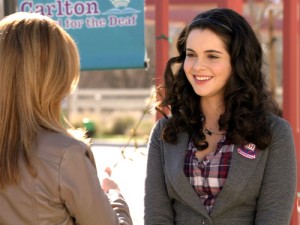 PopCityLife: Are there any other struggles that Bay will be dealing with this season?
Vanessa: Definitely Ty and Bay is a struggle. Bay and Emmett is a struggle this season. And Regina and Angelo and Bay all living under the same roof turns into a struggle as well, because it's just not exactly what everybody expects it to be. But you know what, what family is?
PopCityLife: Who has influenced you professionally and who you would love to work with some day if you could pick anybody?
Vanessa: Well, I would say Helen Mirren is the answer to all of those questions. But there are so many people, like I would love to work with Christopher Durang on a play.  He's one of my favorite playwrights. I think he's fantastic. There are so many directors, and so many writers, and so many actors that I've learned so much from, from watching, but I would say influence wise so much of what I got influenced by was my mother directing theater.  That was my perspective on acting, was because my mom was a theater director.  So I would say the way that I learned things and the way that I thought of acting really came from that.
Q) If they would have a celebrity guest star, who would you like to see guest on the show?

Vanessa: Well, I'm obsessed with Helen Mirren, so if we could get her that would be awesome.

Q) What kind of moments should we be looking forward to this season?

Vanessa: This season is summer, and so we think of summer so bright and happy and fun in the sun, and it's a very dramatic season, particularly for Bay it's quite life changing for her.

Q) Can you share a funny story with us about being on set?

Vanessa:  A funny story about being on set, let's see, well, there are so many things.  We all get along just so well. The only thing that strikes my mind immediately is Katie LeClerc was a huge High School Musical fan, and at one point it was like 4:00 in the morning and Lea Thompson, you know she's done Cabaret on Broadway, she's done her share of musical theatre, as has Lucas Grabeel, who was in High School Musical, and everyone was tired and delirious and Lea at one point was like, "Just teach me the dance, teach me the dance from high school musical."  And so Lucas did it and Katie's eyes lit up with this look of excitement.  It was hilarious.

Q) Is Bay how you expected her to be in the "What-If" episode, or was it surprising to you?

Vanessa: Personality wise, actually Bay hasn't really changed that much.  Personality wise she has changed the least out of everybody. The biggest difference with Bay is when we first meet Bay in the pilot of Switched at Birth, we see her as this confident, truly her own person type of teenager, and then her world gets turned upside down by the switch; all of a sudden she is vulnerable and she's struggling and she's building up walls, and everything she's known is a lie. So we really catch Bay to the point of a nervous breakdown when we first meet her in Switched, and it's just in the seasons that we've been shooting have been building her back up to become the person that she believes she was born to be.

So this season we have Bay in the "What-If" episode being raised the entire time knowing that she didn't belong to Kathryn and John, knowing that she was raised in a situation where she wasn't a Kennish, and so that definitely changes her perspective on things. It doesn't necessarily change Bay, but I think it numbs her a lot more.
We'd like to thank Vanessa for taking the time to answer some questions for us. We really appreciate it!
Vanessa does not currently have a Twitter account but you can catch her on Switched at Birth every Monday on ABC Family.