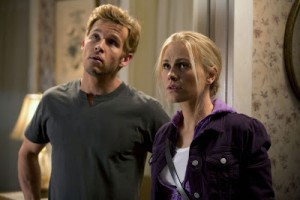 The war between humans and vampires is far from slowing down. Quite the contrary, after tonight's episode, things between vampires and humans are going to get hot. And when I say hot, I mean their hate is burning.
Check out our recap of tonight's new episode of True Blood: "The Sun."
Recap:
Okay. So I was wrong last week when I thought the crazy old man in the car with Jason was Warlow. In my defense, that was totally what they wanted us to think! So he's not Warlow. He's actually Jason and Sookie's Fairy Grandfather. Because why not?
The Stackhouse clan are meeting their share of Faeries tonight. Sookie meets a new cutie in the woods named Ben. She never learns her lesson about handsome strangers and invites him home, patches him up, and sends him on his way. Something tells me this isn't the last we'll be seeing of him.
Grandpa investigates the portal that Warlow broke through in Sookie's bathroom. Whatever is on the other side is worse than he imagined. He tries to prepare Sookie for the inevitable showdown between the two of them. He teaches her to summon all of her light into a single ball of energy that will destroy any vampire near her. He warns her that she will only be able to do this once and after she does, she will no longer be a faerie.
WHAT.
The season finale is so gonna be awesome. But now I'm a little concerned that that ball of energy isn't going to go as planned. Who might she accidentally kill? #SaveEric #TakeBillith
Speaking of Billith, things are, if possible, getting even weirder with him. Bill is having visions of vampires in pain and spends much of the episode in a vampire coma. There was one extremely unnecessary scene where he opens his mouth and summons all of the blood out of a random human feeder and kills her. Gross.
It's not until the end of the episode, when Jessica is emotionally praying to God to protect her friends, that we learn that Bill is seeing visions of the future. His next vision is a scary one. All of our vampire faves in a white room burning. Uhoh.
In small plot news, Patrick's wife comes to town and I pretty much forgot who Patrick was. Arlene tells his wife he was cheating on her and that's the end of that. Andy wanders around a field looking for his baby mama with his MiracleGro babies and Laffy and Emma are playing dress up. Alcide and his pack fight with Sam over custody of Emma and end up kidnapping her. Laffy and Sam get the crap beat out of them while some Supernatural Rights Group takes pictures of the whole thing.
The humans mean business. The weapon that they used on Tara is not only just a silver bullet. It's a silver bullet that emits UV light to cause as much pain as possible. Pissed off, Eric takes flight to go undercover at the Governor's mansion as a Whooping Crane lover. So cute. Love the glasses.
He attempts to glamour the Governor, only to learn that they have invented a special contact lens to protect them from such events taking place. Vampires are screwed.
Funniest Quotes of the Night:
Eric: Listen to me you sanctimonious sack of sh*t.
Arlene: Life is just a shit sandwich sometimes.

Check out the preview for next week's episode "You're No Good" here.